To succeed on the cloud, you may need attitude adjustments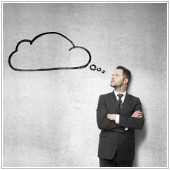 Cloud computing is not some magic pill you can take to make your business instantly successful. As with any business tool, it must be used properly to be of any help to your company. If you have any preconceived notions about the promises of the cloud, you'll need to adjust your mindset so you can start off on the right foot.
Consider cloud value over costs
When considering the cloud, too many entrepreneurs get hung up on costs. Instead, as a business owner, think about how the cloud impacts your business and saves you money. You must look at the cloud as no different than any other investment you made to grow your organization.
To help you make the proper shift in thinking, ask your IT leaders just how the cloud will benefit your business. They'll mention how the cloud will provide you value, such as easier team collaboration and the ability for anyone in your organization to work anytime, anywhere.
Think "strategy" before migration
Once you've considered the value the cloud provides, you'll likely come up with goals you'll want it to accomplish for your business. If you haven't, do it now, before signing up for the service.
Let's say you want to gain the productivity benefits of letting your staff work remotely without sacrificing cybersecurity. Therefore, prior to rolling out the cloud in your company, have the specific goal of increasing the use of vetted mobile devices among employees.
Clearly define your cloud goals beforehand, then work with your IT staff to come up with the nuts and bolts of the plan for accomplishing that goal. By having a plan instead of just winging it, you'll have a better idea of what you want to achieve, have the ability to recognize when you're getting off-track, and be more prepared to make adjustments in case things don't go as expected.
Learn to love the quickly evolving nature of the cloud
Compared to other IT tech, the cloud is still relatively new and subject to rapid change. New updates, features, and enhancements are rolled out regularly, so if you want to get the most out of your cloud, it's best to keep up. Of course, this is a scary idea for many business owners and IT managers alike as fast-paced flux can feel like instability and chaos.
Some cloud services make it easier than ever to keep up with changes. Let's take Office 365, for example. Adding users and implementing new changes can take mere minutes. Yes, adapting can be frightening, but just remember that Microsoft and your IT managers are in your corner. If you still have some bad memories of long and frustration-filled transition periods after updating your legacy technology, rest assured that updates to cloud-based services nowadays often only require a small learning curve. Most new features are intuitive by nature, making adjustment to these changes painless and problem-free.
One of the best ways to assure your cloud updates go as smoothly as possible is to have a cloud enthusiast who'll be up to date on the newest features and enhancements and can quickly tell you whether or not an update will benefit your business.
Moving to the cloud is pretty much an all-or-nothing business decision. If you adopt it, the cloud will become an integral part of your business, and you and all of your staff will interact with it on a daily basis. So be prepared for a big transition and a big payoff of higher productivity and connectivity for your entire company.
Are you ready to embrace cloud solutions? Give us a call to learn more about how we can help you migrate to the cloud and realize its full potential for your business.
Published with permission from TechAdvisory.org.
Source.
Share This :