Simple steps to protect data in the cloud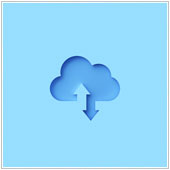 No business wants a data breach. According to IBM's 2019 Cost of a Data Breach Report, a single data breach can cost organizations $3.92 million on average. If you plan to migrate your organization's data to the cloud or if it's already there, you may think that your data is now safe from data breaches. That couldn't be further than the truth. Take a proactive stance in mitigating data breaches by following these simple steps.
The cloud opens up some great benefits for businesses and is here to stay. However, as with all technology advancements, you need to also be aware of its vulnerabilities and security issues. If you want to proactively prevent data security breaches in the cloud, then here are five tips to follow:
Know your cloud apps:
Get a comprehensive view of the business readiness of apps. Ask questions like: Which ones render you more or less prone to a breach? Does an app encrypt data stored on the service? Does it separate your data from that of others to limit exposure when another tenant has a breach?
Migrate users to high-quality apps:
Cloud-switching costs are low, which means that you can always migrate apps that best suit your needs. If you find ones that don't fit your criteria, take the time to talk to your vendor or switch. Now more than ever, you have choices.
Find out where your data is going:
Take a look at your data in the cloud. Review uploads, downloads, and data at rest in apps to get a handle on whether you have potential personally identifiable information (PII), or whether you simply have unencrypted confidential data in or moving to cloud apps. You wouldn't want cloud and data breaches with this critical data.
Look at user activities:
It's important to understand not only what apps you use but the user activity of your data. Ask yourself: From which apps are people sharing content? Does the app enable sharing? Knowing who's sharing what and with whom will help you understand what policies to best employ.
Mitigate risk through granular policy:
Start with your business-critical apps and enforce policies that matter to your organization in the context of a breach. For example, block the upload of information covered by certain privacy acts, block the download of PII from HR apps, or temporarily block access to vulnerable apps.
The key to preventing a data security breach in the cloud lies in careful attention to your cloud applications and user activity. Analyzing your apps and looking into user activities might be time-consuming, but the minimization of cloud and data security breaches makes this task worthwhile. Looking to learn more about today's security? Contact us and let us manage and minimize your risks.
Published with permission from TechAdvisory.org.
Source.
Share This :