Awesome cloud tools your office must consider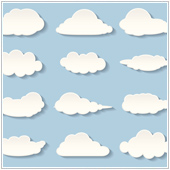 As the end of the year nears, it's a good time to reevaluate your IT priorities. And if cloud technology isn't one of them, that needs to change. There are at least six types of apps and platforms every business should have. Let's take a look at each.
Email
Every business needs email. And while there are plenty of non-cloud options to choose from, they require a lot of maintenance. Opting for cloud-based email means you pay for the service without worrying about hardware requirements or software updates. These issues, among others, will be handled by the provider and backed by service level guarantees.
File storage
Storing company files in the cloud is a great way to give employees more mobility and flexibility. Everyone can access information from almost any internet-enabled device without compromising security, since providers include things like encryption and multifactor authentication as part of the monthly service fee.
You can opt for either DIY cloud storage such as Microsoft's OneDrive and Dropbox or a slightly more expensive managed solution that will provide customization opportunities and regulatory compliance management.
Document creation and collaboration
It's easy to confuse apps like Office 365 and Google Docs with cloud file storage but they're not the same. What sets them apart is whether or not you can edit documents stored on these platforms. In most cases, multiple users can alter the same document simultaneously and see mirror images on their screens even if they're hundreds of miles apart.
Between faster document turnaround times and fewer separate versions of files, there's no reason to keep everything offline. Business owners used to worry about security but vendors today invest 100 times more resources in protecting client info than a small operation could ever match.
Server hosting
Whether your business requires a single low-scale server or several high-powered ones, it's becoming harder to justify maintaining those at your physical location. They're too finicky and expensive compared to their cloud alternatives.
Server hosting enables you to accomplish via an app all that you could with in-house hardware. The costs are also spread out month to month rather than all at once during the setup phase.
Backup and recovery
The entire basis of cloud technology is that you have total access to hardware and software that's located far from your office. That makes things like cloud file storage and server hosting perfect for recovering from a disaster. If a natural disaster or cyberattack renders your office inoperable, all you need to do is log in to your cloud platform from somewhere else.
If you are looking to move your business into the cloud, we have a broad range of products tailored to small businesses. Contact us today to learn more.
Published with permission from TechAdvisory.org.
Source.
Share This :