5 Cool features of macOS Catalina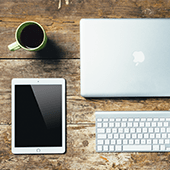 macOS Catalina is the latest version of Apple's operating system for Mac computers. From three new apps for managing music, podcasts, and your favorite movies and TV shows to productivity- and creativity-boosting programs, Catalina offers a myriad of exciting features that will enhance overall user experience. Read on to find out more.
Music, Podcast, and Apple TV apps
At the 2019 Worldwide Developers Conference in June, Apple announced the end of iTunes. In lieu of the soon-to-be-defunct music service and software program, three new apps for music, TV, and podcasts will be introduced in macOS Catalina.
With an interface similar to iTunes', Apple Music gives you access to your existing music library (even songs from CDs you burned) so you can easily import or stream your music. You can even look up the lyrics of the song you're listening to in the Now Playing section.
Meanwhile, the Apple TV app works as your all-in-one hub for movies and TV shows: it lets you stream and download content from streaming services and subscription channels like HBO and Showtime. You can also use the app to rent or buy new movies or TV shows.
Apple Podcasts brings you hundreds of thousands of free podcasts, including those you're subscribed to or have added to iTunes. Get episode updates on your Mac to keep up with your favorite podcasters, and look up episodes by guest, host, or topic with the app's improved search function.
Sidecar
Turn your iPad into a second monitor for your Mac and extend your workspace with Sidecar. Just connect your devices via cable or wirelessly, and you can mirror your Mac's desktop so your iPad shows the same apps and content as your Mac. And if your apps support Touch Bar, Sidecar enables touch input even if your Mac doesn't have a Touch Bar. You can also use your iPad as a drawing tablet for your Mac if you have an Apple Pencil stylus.
Project Catalyst
Project Catalyst will soon make iPad and iPhone apps available on Macs and Macbooks. Catalyst makes it possible for app developers to port their iOS apps over to macOS, bringing an array of new tools and programs to your Mac.
The development tool is still a work in progress, though, so there are only a few universal iOS and macOS apps right now. These include Apple Music, Apple TV, and Apple Podcasts but you can expect to see a few more roll out with Catalina later this year.
Find My
Find My app combines Find My Friends and Find My iPhone into one seamless program. Aside from all the tools found in the individual apps, Find My offers new ones that work over Bluetooth, as well as Wi-Fi and cellular data, to find your or other people's devices even when they're offline. And because Find My uses a system that encrypts the location of lost or stolen devices, you'll be the only one who can see it. This makes finding your Macbook, iPhone, or iPad more secure, not to mention easier.
Voice Control
Manage every aspect of your Mac with Voice Control. This accessibility feature built on the Siri speech recognition engine lets you dictate notes and messages and edit these as you go along. What's more, Voice Control is smart enough to differentiate between dictations and commands. So if you say, "Buy milk. Click send," only "Buy milk" will be typed out and sent as a message.
There are many more features and capabilities in the latest macOS, all of them designed to improve the way users work and play. If you want to learn more about how Catalina will enhance your productivity, drop us a line today.
Published with permission from TechAdvisory.org.
Source.
Share This :